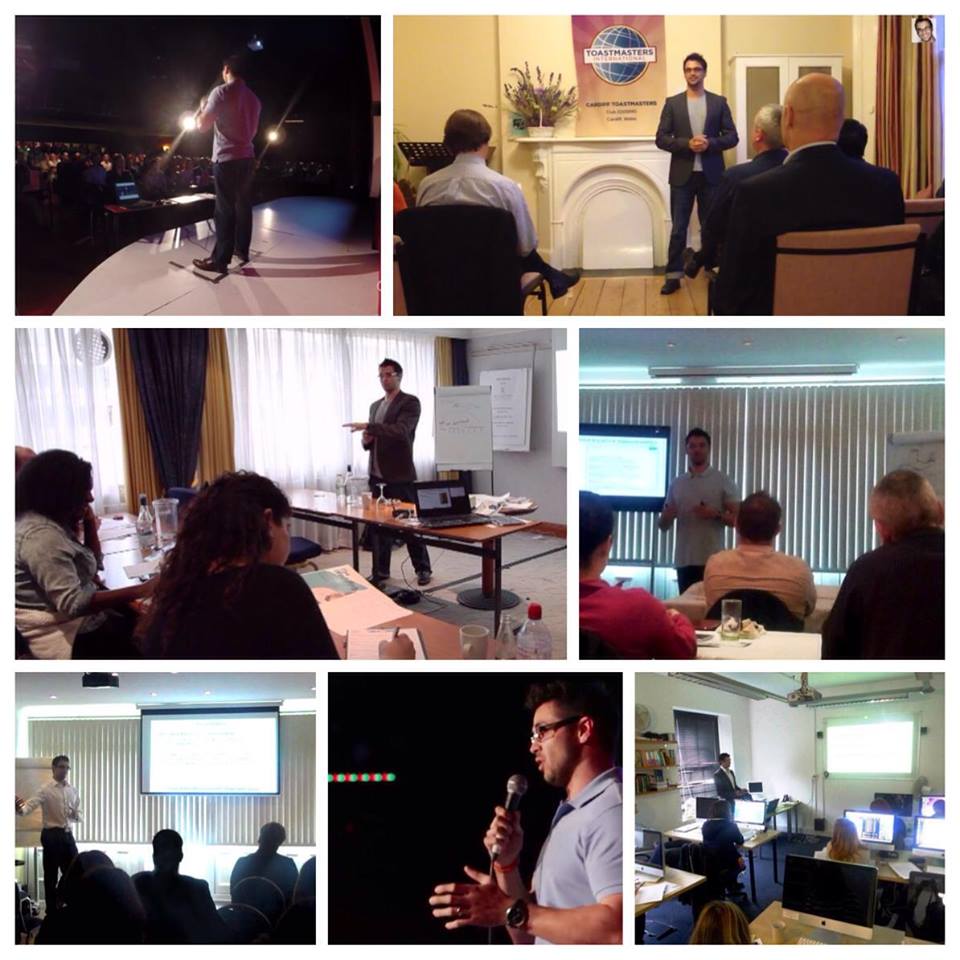 Mo Mastafa is an author, trainer and coach, with a passion for marketing and fitness. Author of 2 books, one on online marketing and another on the mental aspects of getting in shape, Mo is enthusiastic about helping spread his message about being mentally and physically strong in all areas of life.
Helping busy individuals such as entrepreneurs & career professionals, Mo has delivered talks on his chosen topics to audiences all around the world, from paid small group workshops to live audiences up to 500 people.
Mo has also won several Best Speaker awards from the global public speaking and professional leadership organisation, Toastmasters International.
He specialises in working with individuals who are committed to excellence and growth, and helps them increase their performance and revenues by leveraging close to 2 decades of experience in marketing & sales. He has provided training, coaching and consulting services to industry leading brands including The BBC, Arriva Trains Wales and Penn Pharmaceutical Services.
With clients and private workshop attendees spanning across various sectors including health & fitness, digital media, food catering, hotels, public transport, pharmaceuticals, plastic manufacturing, close protection security, landscaping, overseas property, fitness authors, business coaches, NLP coaches, strength coaches, yoga teachers and property investors to name a few, Mo has a vast range of experience to draw on.
Having began his career in retail sales at age 16 working for companies such as Nike, Edwards Sports and JJB Sports, he learned about the intricacies of branding and consumer behaviour, including the importance of product positioning and what makes people buy.
Afterwards he moved into the highly competitive telemarketing industry working for a fast growth startup. His work ethic and people skills allowed him to quickly secure a team leader position, before being promoted to assistant manager, making him the youngest manager in the organisation at only 19 years of age.
Alongside a small group of other managers, he was responsible for overseeing the telemarketing activities of the rapidly growing employee base of around 300 telemarketers. This fast-paced environment allowed him to learn many new skills that would serve him and others throughout his career. In particular the importance of staying flexible, open to learning and being creative in finding ways to motivate individuals from various backgrounds.
Eventually he went on to pursue his interest in IT, by studying at college and graduated with certifications in areas including HTML website development, computer programming and digital marketing. Later he enrolled in university, graduating with a 2:1 BA (Hons) Degree in International Business Management.
Mo is a lifelong learner and has studied hundreds of books around the topic of business, marketing, sales and personal development. He has also invested heavily in private coaching.
Some of his coaches included a top tier & master level coaches at the Anthony Robbins Research Company, the leader in the business & personal development coaching industry. He worked with his coach, who is a former Royal Marine and successful real estate investor, for around 16 months, doing deep personal development work as well as learning valuable business skills.
He has also invested in being coached by professional marketing & sales trainers from the UK & the US, including Glenn Bridges and Eben Pagan. Learning how to present and close deals face 2 face, over the phone and via the web. He's also received mentoring from online millionaire Alex Jeffreys, who's company was listen on the Inc 5000 list of Americas top fastest growing companies 2 years running.
His aim has always been to continue to improve his own business, marketing & sales skills, allowing him to add more value and create greater results for anyone he chooses to work with.
Over the years he has narrowed his focus primarily on working with those in the coaching & fitness industry, consulting to gyms and other fitness professionals, sharing his marketing & sales insights at Empower Bodybuilding, Elite Fitness & David Lloyds Fitness to name a few.
He is also a qualified personal trainer & circuit instructor and has experience in teaching fitness & meditation classes as far afield as Malaysia.
He's currently furthering his studies on subjects such as Neuro-linguistic programming (NLP), a powerful communication methodology, to allow him to create greater breakthroughs for himself and others.
Some of his specific skills include:
Providing coaching, training and consulting on SEO copywriting, social media marketing, website development, email marketing, telemarketing and face-to-face sales.
To see some of his client's feedback, visit: http://www.momastafa.com/feedback/